FUTURE RELEASES
2011
October
1st
2012
November
1st
2013
December
1st
2014
January
2nd
2015
February
1st
SOME OF OUR CUSTOM DATA WEBSITE PROJECTS
DATABASE DEVELOPMENT AND PROGRAMMING SOLUTIONS
Affordable Data Services
Web Consulting Services caters specifically to small and medium sized businesses needing an interactive data base driven web site. With expertise in the front-end languages such as ASP.NET, ASP or Flash reporting in addition to database technologies such as Oracle, SQL Server, and MySQL, we are certain to come up with a technical solution that meets your business needs.
We can design and develop customer databases and data access components to implement your very specific data requirements and enforce data integrity to ensure your information is kept accurate and secure.
Our team works one-on-one with you to outline all the necessary functions to collect and store data from your web-site. We gather your requirements from your business, business units and end users, entailing the design using a functional specifications approach, and then building the solution using approved tools and technologies.
We can develop successful enterprise solutions within your organization and incorporate your business design patterns and methodologies.
---
CECA provides all the necessary resources for continuing education for commercial electrical contractors. This site needed a data base to store customer registration information, tests, test scores and a retrieval method to allow ease of reporting test scores to the different states so that licenses could be re-issued.
Content Management System
Secure login / membership area
Data retrieval
Newsletter sign-up form
Continuing education testing center
Surveys
Ecommerce
Custom Data Base Design
We use Microsoft technology for database construction and functions. Other databases created in other languages such as PHP, Java and Cold Fusion are either too limited or lack the support to be effective for most companies. Our content management systems and database gives you the unique power collecting data necessary to run your business. This reduces interfering with the integrity or design of the site, while giving you the flexibility to manage an infinite amount of information throughout your site.
We do a thorough analysis and proposal identifying all your business and data requirements to ensure a consensus within our project team and with you.
Data Mart for Integrated Reporting
Data Warehouse Intelligence is a system used in an organization to collect transactional data, such as purchase records from one or more data sources into a central data location, the Data Warehouse. The main source of the data is cleaned, transformed, catalogued and can later report this data, usually in an aggregated way to and made available for use by managers and other business professionals.
This system generally consists of an ETL tool, a Database, a Reporting tool and other facilitating tools, such as a Data Modeling tool.
A Data Warehouse (DW) is a database used for reporting and is offloaded from the operational systems. Data may pass through an operational data store for additional operations before it's used in the DW for reporting.
A data warehouse maintains its functions in three layers: staging, integration, and access. Staging is used to store raw data for use by developers (analysis and support). The integration layer is used to integrate data and to have a level of abstraction from users. The access layer is for getting data out for users.
---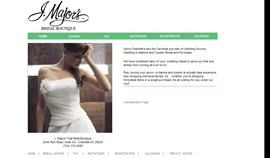 J. Major's site needed a data base to store customer registration information and an easy to use retrieval method for their sales staff.
Secure login / membership area
Data retrieval
Migrating to SQL Server
SQL Server was introduced in 1988 for various Unix versions. In 1994, Microsoft SQL Server became Microsoft's flagship database software for Windows.
Microsoft SQL Server is less costly and simpler and is a good match for small to medium sized data projects. SQL Server can streamline a company's existing systems especially if there is a need to stay efficient to meet the demands of your user community as well as providing top notch support. Oracle can be too costly, which can interfere with a company's goal to reduce costs. Migrating to Microsoft SQL Server can create money saving opportunities by eliminating the Oracle database administrator, which usually is outsourced to 3rd party providers and have Oracle's expensive licensing and maintenance fees.
SQL server can give a company more power, flexibility, and greater options for their employees.
Web Consulting Services provides it's own SQL Server data base for our web clients.
We provide services including architecture, design, support and the implementation of Microsoft SQL Server Database including:
High Avalibility System Design
Clustered Systems
Mirroring
Core Services Include:
Support for 7.0, 2000, 2005 and 2008 systems on any platform
Installation
Patching
Upgrades
System Configuration
Database Design and Implementation
Backup/Recovery and process implementation
Maintenance Plans
Full Database Backups
Transaction Log Backups
Daily Monitoring and Issue Resolution
System Health Checks

Integerty Checks
Database Optimization and Performance Tuning
Trouble Shooting and Issue Resolution
Security configuration and auditing
Data Transformation Services
Alerts and Operations configuration
TSQL Programming
Custom TSQL script development
Data Replication
Linked Server Configuration/Setup
Remote Server Configuration/Setup
---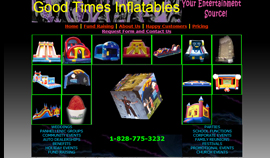 Good Times Inflatables provides a wide variety of inflatable bounce games, inflatable slides, inflatable rock climbing walls and more for fundraising events, corporate gatherings and other parties. This site needed a data base to add to and track for the sales staff to store customer registration information, event dates and items rented.
Secure login / membership area
Data retrieval
Event booking sign-up form
Display area of all inflatables
Measurement and Reporting Business Solutions
Data can provide meaningful incite into the dynamics of your business and help reduce costs and improve performance. One of these is Incident Management which aims to restore normal service operation as quickly as possible and minimize the adverse effect on business operations.
Incident Management can restore normal operations as quickly as possible with the least possible impact on either the business or the user, at a cost-effective price.
Another useful source of data is Problem Management which aims to resolve the root causes of incidents, minimize the adverse impact of incidents and problems on business that are caused by errors and to prevent recurrence of incidents related to these errors.
The problem-management process is intended to reduce the number and severity of incidents and problems on your business and report it in documentation to be available for the end user to proactive process, identify and resolves problems before incidents occur. Such processes include:
Trend analysis;
Targeting support action;
Providing information to the organization
The Error Control Process iteratively diagnoses known errors until they are eliminated by the successful implementation of a change under the control of the Change Management process.
The Problem Control Process aims to handle problems in an efficient way. Problem control identifies the root cause of incidents and reports it to the service desk. Other activities are:
Problem identification and recording
Problem classification
Problem investigation and diagnosis
We can also coordinate the collection of reporting requirements, testing efforts and implementation schedule reporting and retention reporting.
---
Get The Foreclosure List needed customized member tracking, a secure area for subscribers enrollment and to pay for various subscriptions, be protected against the list being reproduced by tracking computers used to access the site, have subscriber information in an easy to access place & to add free subscribers.
Because of the extensive "decisions" that the website would need to perform, the information was gathered from the website client over 6 different meetings, flow charts were developed and run through sample demonstrations before actual construction to ensure accuracy.
Custom enrollment area
Real estate display list of available foreclosure properties
Self admin area to add free subscribers and to track account
Training Support of Your New Database
Web Consulting Services has Microsoft Certified Developers (MCSD), proficient in Basic 6.0 enterprise development, web application development with Microsoft Visual InterDev 6.0, and SQL Server.
We can explain in easy terms the functionality of your new database and offer the necessary support when something needs to be changed.
We will be responsible for the training and support of users within your business on the completed web applications once deployed into the production environment. Our training classes are onsite at your business using your materials and computer systems.